I spend way too much time watching television. Time that could be better spent writing, editing, or venturing to what most people call "outside." However, I'm aware of my vices and I might as well share the outcome of all the research I thus conducted with you. Late last year I participated on the Mind Meld about best genre TV shows of 2015 and I had a fun time writing my portion of that post, so I decided to update it here with the shows that have launched in early 2016:
You, Me, and the Apocalypse
Like FOX's Last Man on Earth from last year, this show starts off with an apocalyptic premise. The show is part comedy, part horror, and part soap opera. It's full of crazy twists, but it manages to make the combination work.
You, Me, and the Apocalypse uses the device popularazed by Breaking Bad: they open each episode with a scene that takes place moments before an asteroid is about to destroy humanity. We see the narrator in a bunker with a group of very unlikely characters (including a monkey and someone trapped in a wooden box) while the opening credits roll, then each episode tells the story of how all of them managed to end up there (some from half a world away.)
This is a limited run series. The show, co-produced by NBC and Sky 1, already completed its run in the UK, so I cheated and got my hands on a complete set. It was very satisfying, even if the show lost some of its comedic elements and grew progressively darker in the later episodes. The show's plot is rather susceptible to spoilers, so don't spend too much time or effort looking into the details about it online or you might ruin some of the fun for yourself.
It's unclear whether another series will be produced (there are plenty of intentionally unresolved and tantalizing bits in the finale) but even if the ten-episode run is all there ever is to the series, it is definitely worth watching.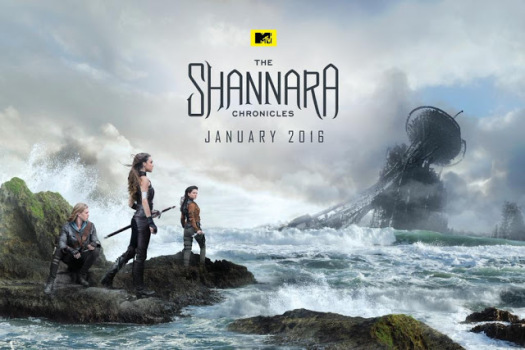 The Shannara Chronicles
This one is a mixed bag. It really doesn't live up to the Game of Thrones, the success of which it is so clearly trying to emulate. It seems clearly designed to appeal to the MTV demographic, which is definitely not me. Having said that, there's precious little epic fantasy on TV.  If you enjoyed The Sword of Truth or Xena: Warrior Princess, you will probably like this one as well, but don't expect complex plots, complex characters, or complex anything. Just a bit of well-produced, mindless fun.
The Magicians
As I wrote at SF Signal last year, I really enjoyed the pilot. I only managed to catch a couple more episodes so far, but I'm really digging the show. It's sort-of a gritty Harry Potter for the '90s generation, with the action taking place in New York City and a school of wizardry university that teaches magic in upstate New York. I like both the vibe and the characters, and look forward to watching more.
Overall I'm pretty happy with what SyFy's been doing over the course of the last year.
Lucifer
Based on the comic book character created by Neil Gaiman and others, and eventually a star of his own Vertigo comic book, Lucifer becomes bored with reigning in hell and decides to spend some time hanging out in Los Angeles.
I liked the first episode and really enjoyed Tom Ellis's portrayal of the main character, but since then the show has fallen into a predictable procedural pattern which is less interesting. To be fair, there has only been a few episodes. Person of Interest spent much of the first season in procedural format before it became really excellent, so there's hope for Lucifer yet. I'm willing to give it a few more episodes but if you aren't on board already, I'm not sure I can recommend this one.
The only other new SF/F series I can think of that I tried was Second Chance. Another procedural, and pretty well made at that, but it's almost certainly getting cancelled due to poor ratings, so likely not worth becoming invested in.
#SFWAPro
TL:DR version:
You, Me, and the Apocalypse – Must watch!
The Magicians – Very solid so far.
The Shannara Chronicles – Meh.
Lucifer – Meh.
Second Chance – Dead show walking.
Have you seen anything good that I missed? Please post a comment. If there's interest, I will post an update later in the year with my takes on Colony, Preacher, and any other new genre shows that I get a chance to watch.